BCAA + B6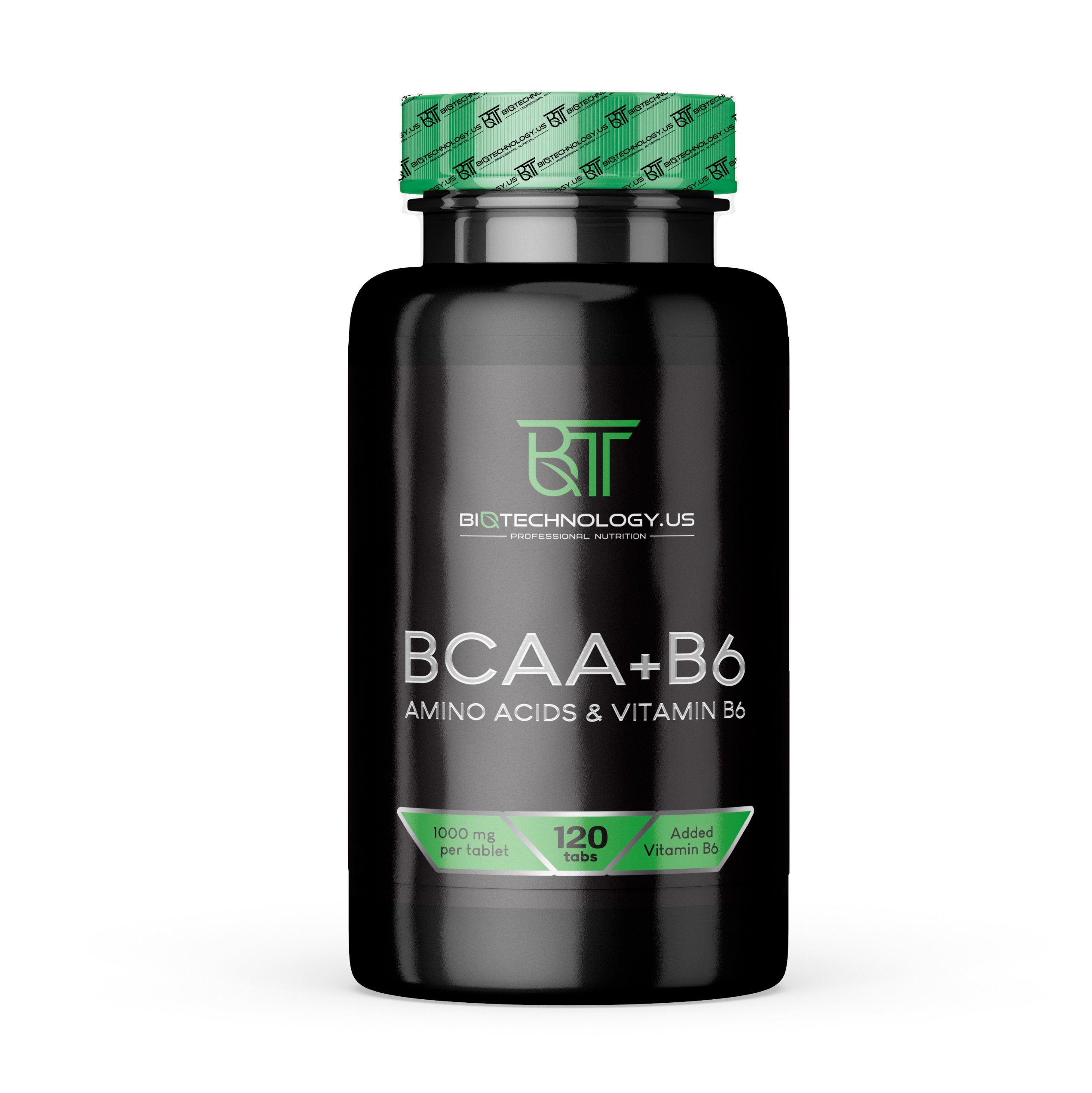 PRODUCT OVERVIEW
· Contains Vitamin B6,
· Physiological ratio of amino acids,
· Participates in anabolism,
· Promotes recovery,
· Increases strength,
· Quickly and completely absorbed.
Description:
L-leucine, L-isoleucine, and L-valine are commonly combined together and referred to as branched-chain amino acids, or BCAAs, because of their unique branched chemical structure. BCAAs are vital and must be ingested through food, as the human body cannot synthesize them from other compounds. BCAAs play a key role in maintaining muscle mass by increasing anabolism and decreasing muscle catabolism. These properties are of paramount importance for all athletes who engage in strength training.
Biotechnology.US BCAAs+B6 includes a complex of essential amino acids BCAAs (L-leucine, L-isoleucine, L-valine) in a ratio of 2:1:1, which corresponds to the ratio in food sources such as milk or egg protein. This allows you to fully compensate for the missing protein in the diet, the need for which is directly proportional to physical exertion.
Among the ingredients there is also Vitamin B6, without which protein synthesis is impossible, muscle growth and carbohydrate utilization are impossible. And studies show that bodybuilders and other weightlifters need higher doses of this vitamin. Firstly, because it is the only vitamin that is closely related to the intake and absorption of protein, secondly, it is directly involved in muscle growth.
The supplement is available in the form of tablets, which are very convenient to take with you and take without interrupting your daily activities. Biotechnology.US BCAAs+B6 meets all safety requirements, which guarantees a certificate of compliance with the GMP standard.
Recommended use: Take 4 tablets two times a day between meals. On training days take the second serving 30-45 minutes before or immediately after workouts.
120 Tablets

Serving Size: 4 Tablets

Servings Per Container: 30

Active Ingredients

Per 1 Tablet

Per Serving (4 Tablets)

% Daily Value*

L-Leucine

500 mg

2000 mg

┼

L-Isoleucine

250 mg

1000 mg

┼

L-Valine

250 mg

1000 mg

┼

Vitamin B6

0,35 mg

1,4 mg

300%

* - Percent Daily Value based on a 2000 calorie diet.

┼ - Daily Value not established.

Ingredients:

BCAAs in 2:1:1 Ratio (L-Leucine, L-Isoleucine, L-Valine), Bulking Agents (Cellulose, Maltodextrin), Stabilizer [Polyvinylpyrrolidone (PVP)], Anti-Caking Agents (Magnesium Salts of Fatty Acids, Silicon Dioxide), Pyridoxine Hydrochloride.