Glucosamine Chondroitin MSM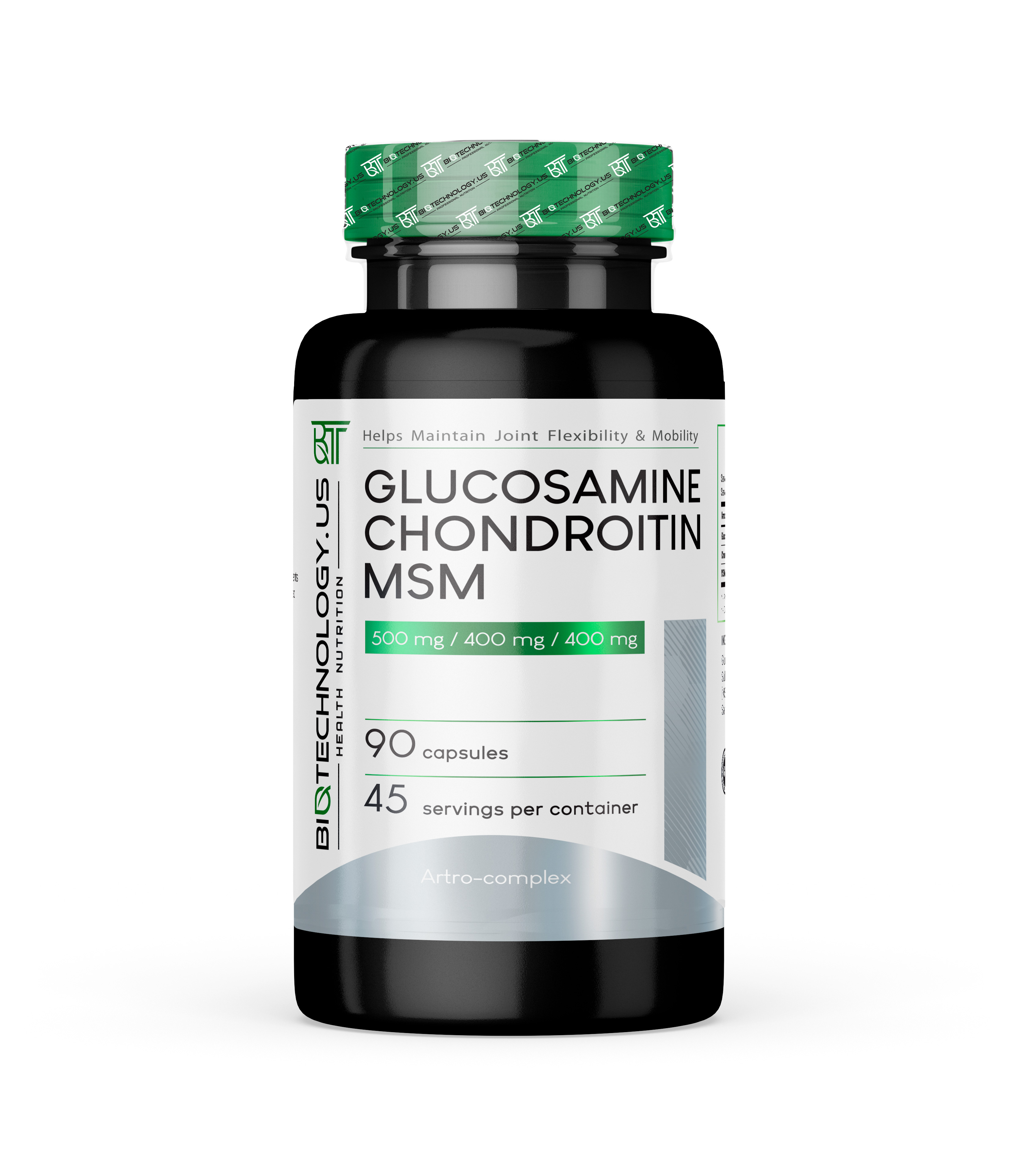 Description
Regeneration and mobility of the joint,


Complex composition,

Natural ingredients.

Bone health,

Relieving pain and inflammation
Biotechnology.us Glucosamine Chondroitin MSM is a complex designed to support the musculoskeletal system. The active components of the supplement are the necessary basis for the formation of cartilage tissue and synovial fluid, and also have a stimulating effect on chondrocytes that ensure the regeneration of cartilage and other joint tissues.
The composition of the supplement includes the necessary components that complement each other, such as glucosamine, chondroitin and MSM (methylsulfonylmethane). They are the basis for improving the condition of cartilage and connective tissue, especially during periods of increased physical exertion or injury. Only natural sources are used as raw materials for obtaining ingredients, and the GMP standard guarantees safety control at all stages of production.
Recommended use
Take 2 capsules daily with food.

Ingredients
Glucosamine Sulphate KCl (from Crustaceans), Chondroitin Sulfate (from Avian Cartilage), Methylsulfonylmethane (MSM), Gelatin (Capsule), Anti-Caking Agent: Magnesium Salts of Fatty Acids, Bulking Agent: Microcrystalline Cellulose.

Supplement Facts
Serving Size 2 Capsules
Servings Per Container: 90
| Active ingredients | Amont per Serving | %Daily Value* |
| --- | --- | --- |
| Glucosamine Sulfate | 500 mg | ** |
| Chondritine Sulfate | 400 mg | ** |
| MSM | 400 mg | ** |
* - % Daily Values based on a 2000 calories diet
** - Daily Value not established.